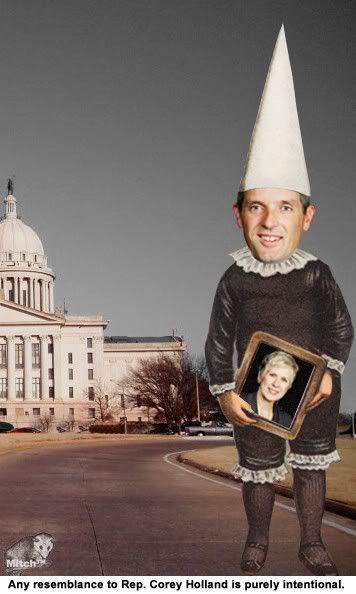 from Kurt Hochenauer's Okie funk:
College Tenure Under Fire In Oklahoma
Sun, 01/29/2012
A bill that could abolish tenure and threaten academic freedom at state college campuses has been introduced in the Oklahoma Legislature.
State Rep. Corey Holland
, a Republican from Marlow, has introduced
House Bill 2598
, an approximately four-page measure that, if approved, would put professors and administrative staff on an annual contract system. The bill states that " . . . on or after July 1, 2013, no administrative or instructional personnel may be awarded tenure, a multiyear contract, or a continuing contract . . ." College presidents would be exempted from the measure.
The bill also states:
Tenure, a multiyear contract, or a continuing contract in effect prior to July 1, 2013, may not be renewed, extended, or readopted. Administrative and instructional personnel without an annual contract are eligible to be awarded an annual contract pursuant to paragraph 3 of this subsection . . .
Read more: okiefunk.com
---